With the natural world outside now having gone to sleep for the winter ahead, this time of year brings the sounds and warmth of crackling fireplaces, the comfort of steaming mugs of tea, the scents of aromatic oils diffusing, and hopefully some moments of quiet contemplation. It also, notoriously, brings with it – the cold and flu season. Recently an essential oil blend (once known as the Four Thieves) has been gaining popularity for its beneficial support to get our families and ourselves through the cold and flu season. Many have used the four thieves essential oil blend with great success year after year.
Tales of the Four Thieves
The inspiration for this blend came out of the historical epidemic known as the Bubonic Plague from the fourteenth to the eighteenth century. One of the tales goes like this: four thieves from Marseille, France would rob the afflicted victims of the plague and would walk away unscathed.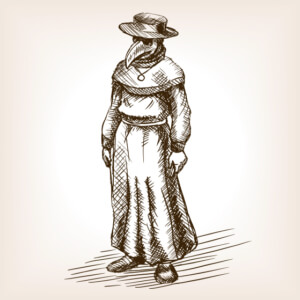 By using a blend of herbs and spices infused in vinegar, the thieves would have doused themselves with this medicated vinegar before they went up to their victims of the Black Death robbing them of any valuable belongings. This botanical combination was also said to have been used by the doctors of the plague, who placed the herb-infused vinegar inside their bizarre masks of the time and also rubbed it on their bodies and clothes.
Interestingly, there is a possible twist to this story; a man named Richard Forthave made a preparation of a botanical-infused vinegar that had become popular during this time. This preparation was known as Forthave's Vinegar and over time the name and story were possibly morphed into the Four Thieves. There is also mention that the original recipe for this vinegar was posted on the walls in Marseille during the outbreak. (note: there are many different versions regarding the four thieves)
Description of the five "thieves essential oil blend"
Today, most "five thieves" preparations available are essential oil blends consisting of various combinations of clove, lemon, cinnamon, rosemary and eucalyptus. Essential oils are highly concentrated plant constituents possessing potent medicinal properties.
Clove is used for respiratory problems ranging from asthma to bronchitis; it is also a strong disinfectant, analgesic and is antibacterial.
Lemon aids the body against infectious illnesses and boosts the immune system. It is a powerful antiseptic and is also used for respiratory illnesses and feverish conditions.
Cinnamon is a strong antiseptic; it has a tonic effect on the respiratory system, and is indicated for influenza and viral infections.
Rosemary is a tonic for the lungs and can help with colds, asthma, and chronic bronchitis.
Eucalyptus radiata is well known for its respiratory support in helping aid and clear throat infections, coughs, asthma and sinusitis.
This powerful blend of essential oil is a potent aid for:
Strengthening and toning the immune system

Deterring sinus infections

Uplifting to the mind, aiding focus and concentration

Alleviating headaches and muscle aches

Supporting healthy lung function
A few suggested uses for the many "Thieves Essential Oil Blends" found in our Apothecary:
Room Diffuser

: add 3-5 drops in your favourite room diffuser and let it clean the air.

Room Spray

: To make a room spray, add 20 – 30 drops of Four Thieves Essential Oil Blend into 60 mls of water. Then add a healthy splash of vodka/gin/Everclear, to help emulsify the oils in water. To use, shake the bottle well and spray throughout the room.

The Body

: As a rub for the chest and upper back for relieving coughs, and to the bottom of the feet to support the immune system, add 10 to 20 drops to a 30ml bottle of carrier oil (like sesame seed oil which is anti-inflammatory).

House Cleaning

: Or add it to natural household cleaning recipes and hand soaps to get the most out of this natural antibacterial multi-use blend.

(Warning:

Do not ingest; clove & eucalyptus are strong irritants, direct skin contact may lead to sensitization.)
Interested in making up an effective all natural hand soap using the Thieves Essential Oil Blend? Stop by at our 109 st location to make up your own five "Thieves Foaming Hand Soap" during our November blending bar, for only $8.95.
If you enjoy making your own herbal remedies through recipes, information, classes or seminars then come join us at Kolya Naturals. Specific to this season is our do-it-yourself Cold & Flu Remedies and Chemically Free Clean classes for learning new recipes to aid you through this winter healthy and inspired.
Make your own Foaming Hand Soap at home!