Botanical Apothecary, Skincare Boutique & Spa
Sometimes the world feels too busy- too hurried. We're multitasking and managing inboxes when what we're craving is a patch of peace and exquisite beauty.
If you're like us, you feel the pull to reconnect with your roots: to indulge in the simple, sacred pleasures of the natural world. Savor the fragrance of rosewater, the glisten of nourishing oils, and the joy of hand-grinding organic herbs. This is what we do.
"Forget not that the earth delights to feel your bare feet and the winds long to play with your hair." —KAHLIL GIBRAN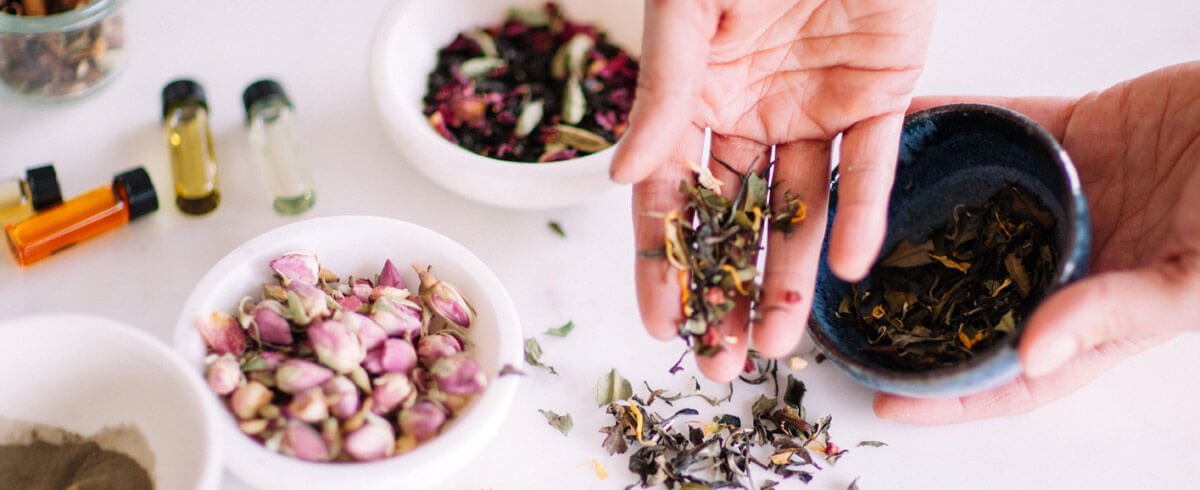 Welcome to Kolya Naturals
KOLYA NATURALS is a natural skincare boutique, botanical apothecary, learning kitchen and spa in Edmonton, Alberta. We founded Kolya based on a passion for herbs, flowers, oils, and the pleasure of playing with them.
In the Skincare Boutique & Spa, we unapologetic purists and natural skincare junkies. We continually seek out new and amazing beauty products. We line our shelves with the purest skincare collections and ingredients available. What this means is that you can always return to find fresh botanical treasures with us. We are committed to care that is not only wholesome and healthful, but truly effective in treating and caring for the skin. We believe in nourishing the body and skin from within.
Those of us in the botanical apothecary, which we endearingly call our Aromatique, delight in sourcing our plants organically and as close-to-nature as possible. Our offered classes teach the craft of home-preparation skincare and herbal remedies. We use our personal line of ingredients, Earths Aromatique, in these classes: herbs, essential oils, roots, berries, botanical butters, plant waxes, carrier oils and more. These ingredients line our shelves and echo the apothecaries of antiquity. Our Aromatique is about returning the old-world wisdom of plant medicine back to the home, and respecting the Earth that provides.
Our Team
Click a name to read more about that team member
It is a comfort to me that Kolya has become a place where so many call home. Though it was originally intended to be a place where people could enjoy organic spa treatments and learn about alternative wholistic remedies and skincare, it has developed into a trusted hub shared by staff and customers alike – who have incredible knowledge and passion for all things offered by nature.

Many from our team feel we are in a unique position where we get to learn as much as we teach; that we are nurtured as much as we give. We share stories, recipes, laughter (and even tears)… we have become an extraordinary kind of family.

But it is because of you, our ever-faithful customers that have supported us for the past 15 years, that we continue to thrive. You walk in with enthusiasm and great, great questions, and share our excitement for oils, herbs, recipes and new skincare hand picked for Kolya's boutique. You, dear customers, have become family too…

So it is with tremendous gratitude, that we thank you.
Nicola