Welcome to the New Year!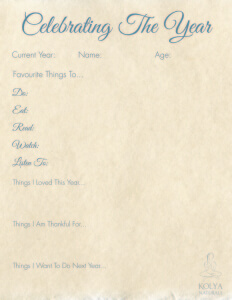 For those of you that have been with us for a while, you will recognize our "Celebrating the Year" link… our 2nd time posting this download for reflection.  If you filled it out last year, find your copy, grab a cup of tea and see what has changed or stayed the same from last year.
Reflect, and with intention decide how you want this next year to unfold…
If this is your first time seeing this download, here's what to do:
Print your copy (and more copies to share with family & friends)
Answer the questions and reflect upon what you did and felt last year…
Keep it in a safe place, and do the same thing next year.  Enjoy!

Find ideas to gift your loved ones in our DIY Botanical Recipes Gift Guide.
Inside, you will find a collection of DIY Botanical recipes, hand-selected by our staff and founders to inspire comfort and joy. 

We have a variety of beautiful products to gift and glow for everyone on your list… including yourself!