We revel in our holiday traditions. No matter what keeps us busy this time of year, we are always looking forward to the season with friends, family, and taking some time to ourselves. Alongside decking the halls and baking up yummy treats (or perhaps just eating them), a favourite tradition is mixing up a warm holiday beverage or a few festive drinks for the holidays.
A good drink will warm the senses and invigorate the spirit. Through the use of organic and plant-based teas and coffees, we can enjoy naturally flavourful holiday beverages and stave off the winter chills.
In a toast to the coming holiday season, here are three of Kolya's favourite botanically-based drink recipes to make your season bright!
Alecia's Winter Cherry Cordial (Alcoholic)
Like most good things, this cordial gets better with time. Allow this blend to steep for at least two weeks for the flavours to really come together. We use a combination of two Earth's Aromatique organic teas, Rosehip Rooibos and Bountiful Berry, to lend an aromatic and flavourful note to this otherwise warm and indulgent beverage. It is fruity, aromatic, not cloyingly sweet, and unique enough to wow your dinner guests when it's time for dessert. But let's face it: after a long day of holiday prepping, we might just kick back and enjoy a glass all to ourselves.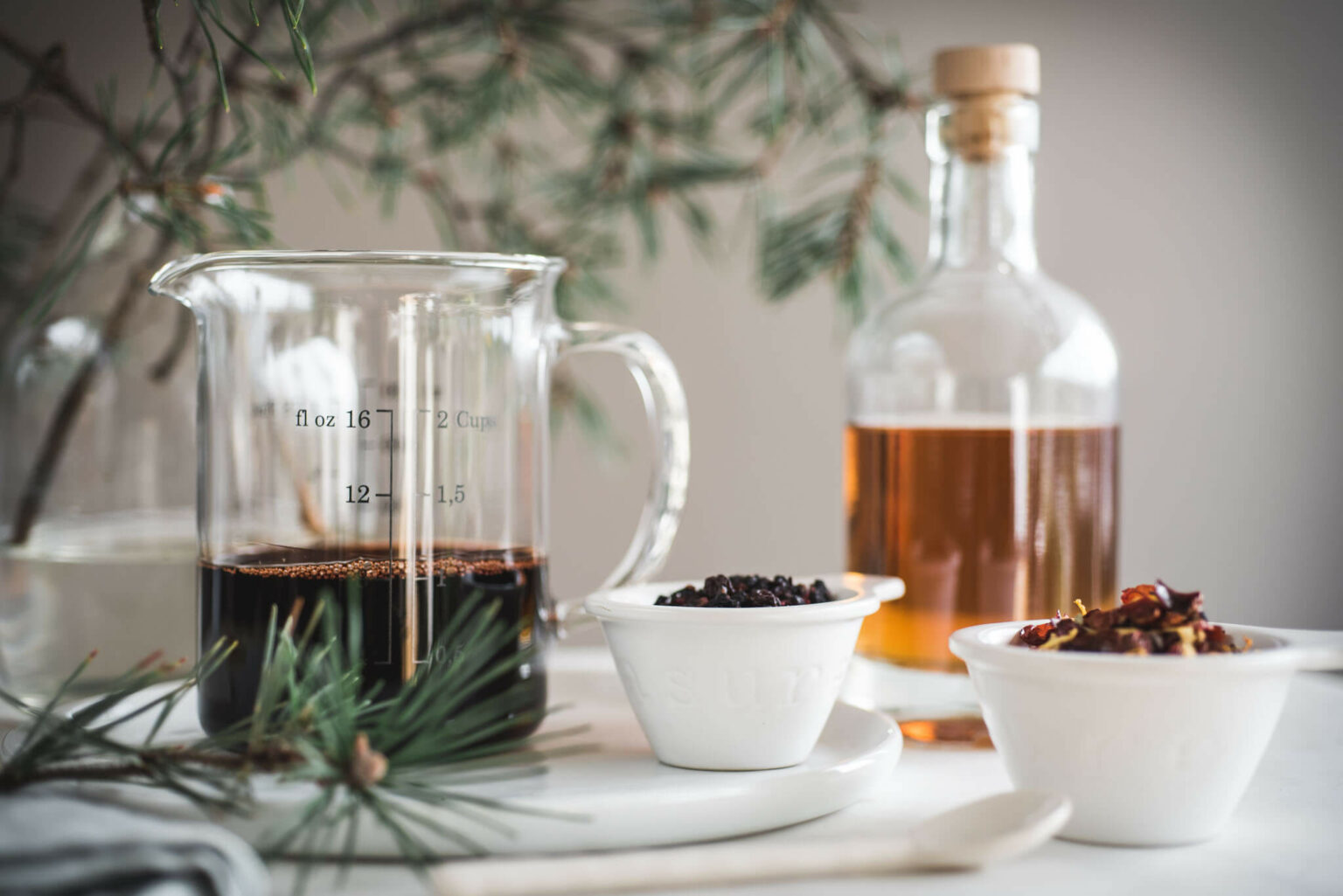 | | |
| --- | --- |
| | Winter Cordial |
Ingredients
Instructions
In a 500 mL glass jar, add the Rosehip Rooibos and Bountiful Berry dried teas and cover with brandy.

Shake daily for two weeks to agitate the mix and infuse the teas into the brandy.

After two weeks, line a strainer with a cheese cloth then strain the infusion into a large measuring cup and stir in the cherry concentrate.

Meanwhile, over low heat, add the honey and half of the cordial mixture into a double boiler, stirring until the honey is dissolved (being careful not to overheat the mixture).

Remove from heat, pour the honey mixture into the remaining cordial and stir.

Using a measuring cup and funnel if needed, bottle the cordial into cork bottles - label, and enjoy.
Recipe Notes
Recipe by Alecia from our botanical apothecary.
Amy's Winter Switchel
According to Uncle Phaedrus, the switchel originated in the West Indies and goes back as far as the late 17th century (1). What is a switchel, you ask? It's a traditional fermented drink meant to aid digestion and invigorate the body. Made with staple wellness ingredients, many of us could put this together from what's already found in our pantry. We pair Earth's Aromatique Cranberry Harvest Tea with ginger and apple cider vinegar to make this healthful holiday concoction. While not recommended for infants, this recipe is Kolya-kid-approved: Amy's four-year-old absolutely loves it!
Mix up a big batch to keep on hand this season. Sip when you've got the sniffles or indigestion after a rich holiday meal. Conveniently, despite its therapeutic merit, it also happens to be delicious: sweeten to taste and add lemon if desired. Or, after the kids are put to bed, mix with gin for a boost of holiday cheer.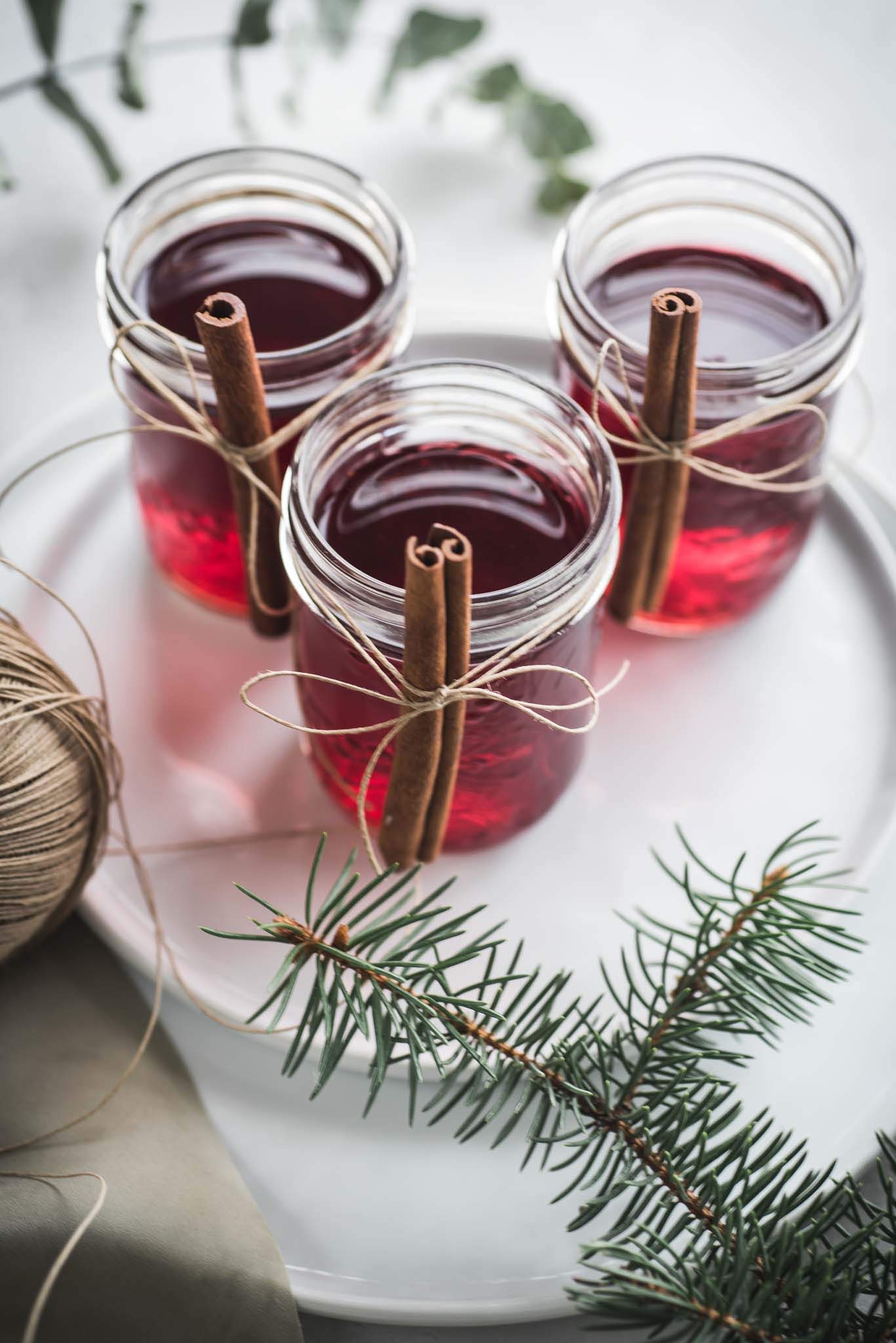 | | |
| --- | --- |
| | Holiday Switchel |
Instructions
Peel and chop the ginger, then place in a glass jar.

Add the honey, molasses, and apple cider vinegar, then swirl jar to help dissolve the honey.

Add the loose leaf Cranberry Harvest Tea and let sit for 4 hours. Add water and the jar lid, then shake/swirl the jar to combine the ingredients.

Place in a fridge and let sit for 8-12 hours, then strain.

Pour and enjoy!
Recipe Notes
Drew's Brew (Non-Alcoholic)
Who says this time of year needs to be all sugar & spice? This recipe was created by Drew, a Kolya-team champ who works hard even through the holidays. It is very stimulating, so it's best enjoyed during cold winter mornings or when a pick-me-up is needed most. It has everything one needs to get the body going, including enhanced MCT collagen (or, shucks, coconut milk powder will do in a pinch), chocolate, coffee, and the magic of mushrooms. Let's say some friends crashed on your couch after a festive, not-so-silent night: whip up this brew, maybe throw in a shot (or two) of coffee liquor, and they'll be revved up and out of your hair before you can say "go ho-ho-home!"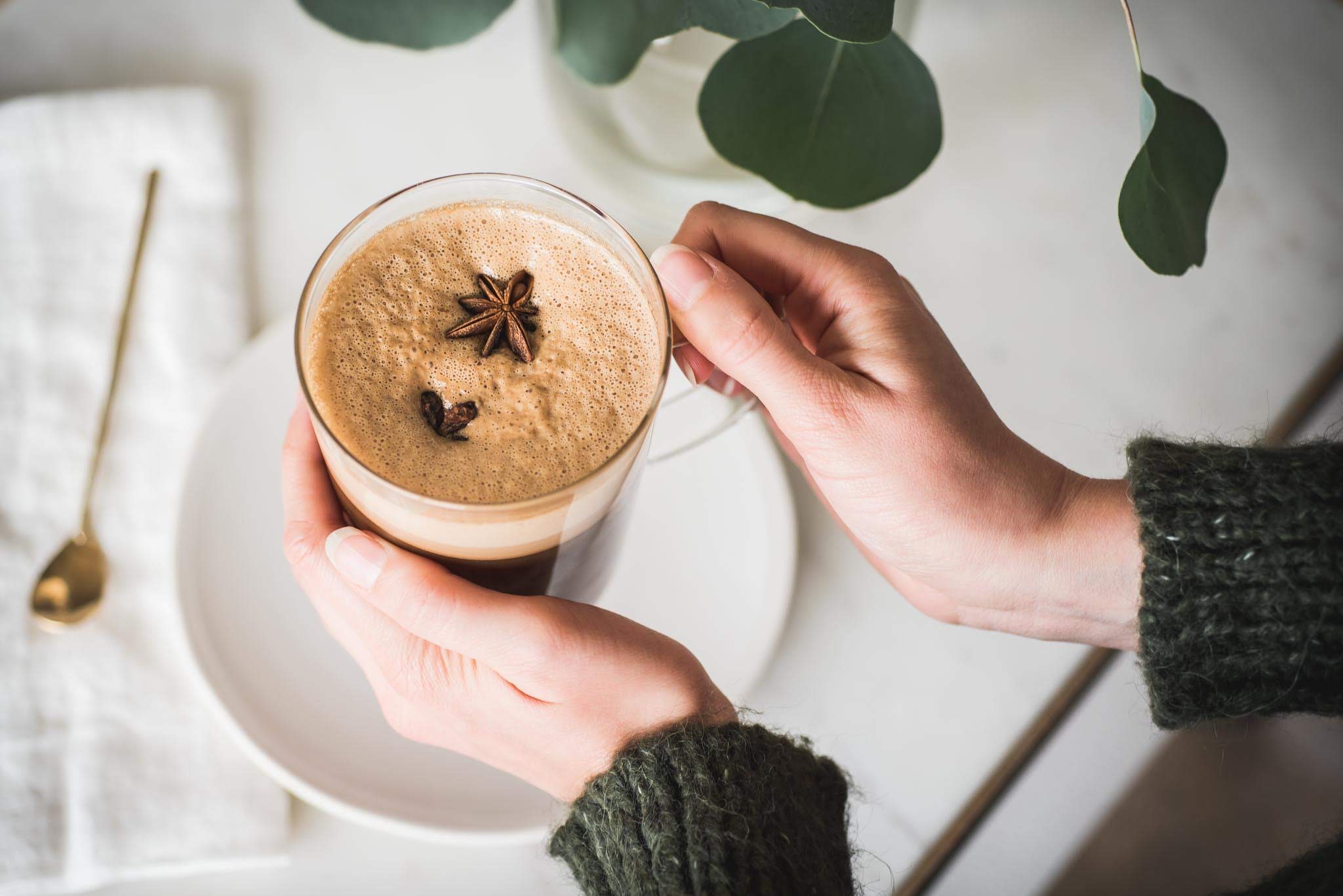 Drew's Brew - a Mushroom Elixir
| | |
| --- | --- |
| | Drew's Brew - a Mushroom Elixir |
Ingredients
Instructions
Make one cup of freshly brewed coffee (or Dandy Blend) and pour into a blender.

Add the 5 Mushroom Chocolate Elixir Blend, Elevate, enhanced collagen (or coconut milk powder) and sweetener of choice.

Ensure the lid is securely on and blend on high until the beverage is completely mixed (for approximately 30 seconds). Enjoy warm!
Recipe Notes
If you are looking for a caffeine free mushroom elixir, feel free to substitute the brewed coffee for a cup of caffeine-free Dandy Blend.
These sippable beverages can be enjoyed by yourself or with a few close friends. Some flavours are more traditional than others, but all will please a crowd. Make ahead and keep on-hand for whenever holiday guests stop by or you simply want a quiet moment with yourself and a good film. Bottle up these recipes and dress it up with a pretty bow, and you've got yourself a delightful homemade holiday gift.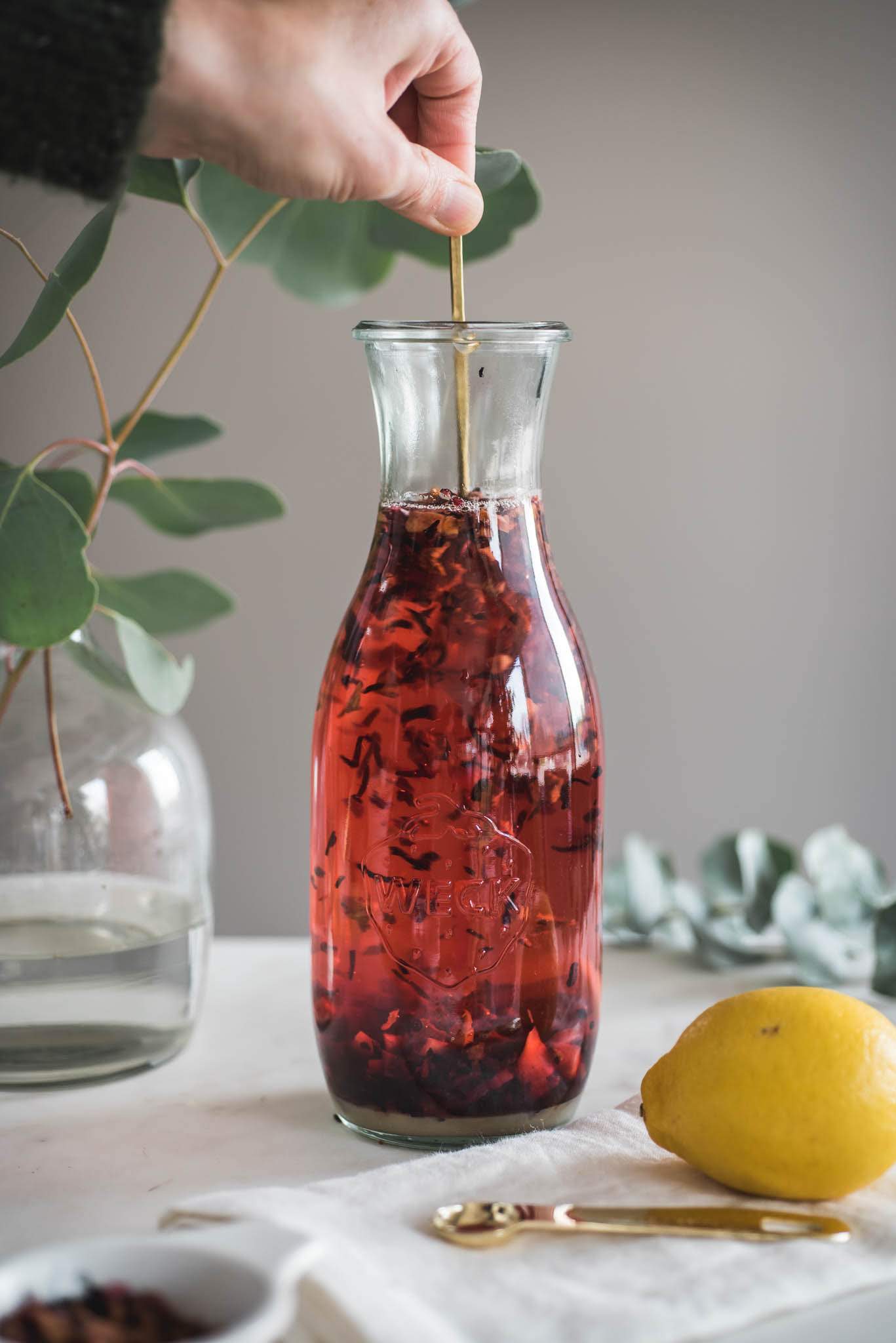 It's not the holidays without a cocktail. So while you're planning your holiday celebrations, be sure to check out Earth's Aromatique's organic teas and herbs for both classic and unconventional seasonal flavours.
These warming, festive flavours will delight your guests and fill your home with the most invigorating aroma.
What are your favourite winter bevvies? Let us know and say cheers to the holidays!
References:
1) "Switchel – Uncle Phaedrus, Finder of Lost Recipes." 20 Sep. 2002, http://www.hungrybrowser.com/phaedrus/m093002.htm. Accessed 12 Nov. 2019.