Much of the mystery surrounding the origins of March is revealed through its Roman Calendar namesake, Mars. Mars was the "God of War" paramount to the Roman Empire, and came to represent ideas such as "heroism," "strength," and "pride." We aren't suggesting you rush into battle anytime soon: before Mars was pedestaled as a war deity, he was thought to encourage the continuation of life and oversee the emergence of spring.
In the Northern Hemisphere, the battles of winter are just beginning to wane. The smallest signs of an impending spring pop up. Through this month's blending bar, we encourage you to consider the symbolism of March and incorporate its themes of power and vigor into your self-care.
This is why our Blending Bar for March is this Vegan Floral Shimmer Balm. Welcome Spring with a little shimmer – it's elegant, it's radiant, it's tenacious and intense. Use it to enhance the appearance of smooth, dewy, ultra-hydrated skin and look illuminated-from-within.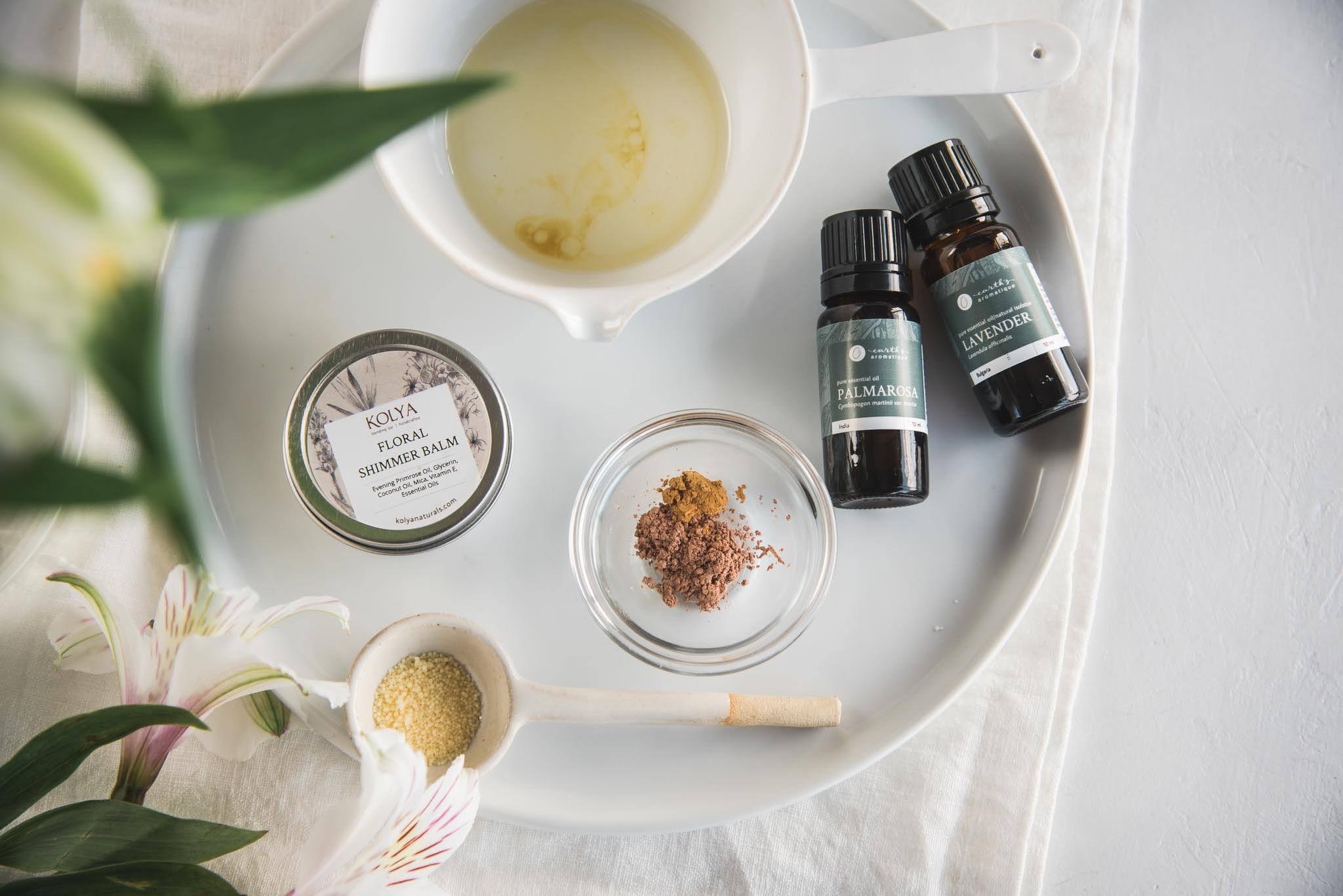 Springtime is all about renewal.
A good starting point is a re-examination of our skincare regime. Consider incorporating products that focus on exfoliation and hydration. We like the Strawberry Rhubarb Dermafoliant from Eminence Organics and following up with the Atmosphere Protection Cream from Osea.
Don't forget the vitamins and antioxidants, such as the Vitamin Sea Serum from Osea, to brighten the complexion. Above all, hydration is key. We've spent all winter feeling parched. We may sound like a broken record, but for a truly luminous, healthy glow, remember to drink lots and lots of water!
With mud, slush, and sometimes even snow, spring isn't perfect.
Neither are we. Embrace it! When it comes to makeup, think minimally. For barely-there coverage, use RMS Un-Cover Up as a simple spot treatment, and Luk Lip Nourish Lipstick. The idea is to look flush, lush, and voluptuous.
After battling out a long, dry winter, we are stronger than ever. Our focus is on embracing our natural faces. Instead of hiding perceived flaws under layers of makeup, we want to slough away the tiredness of winter and aim for an intensely hydrated, dewy, naturally fierce complexion.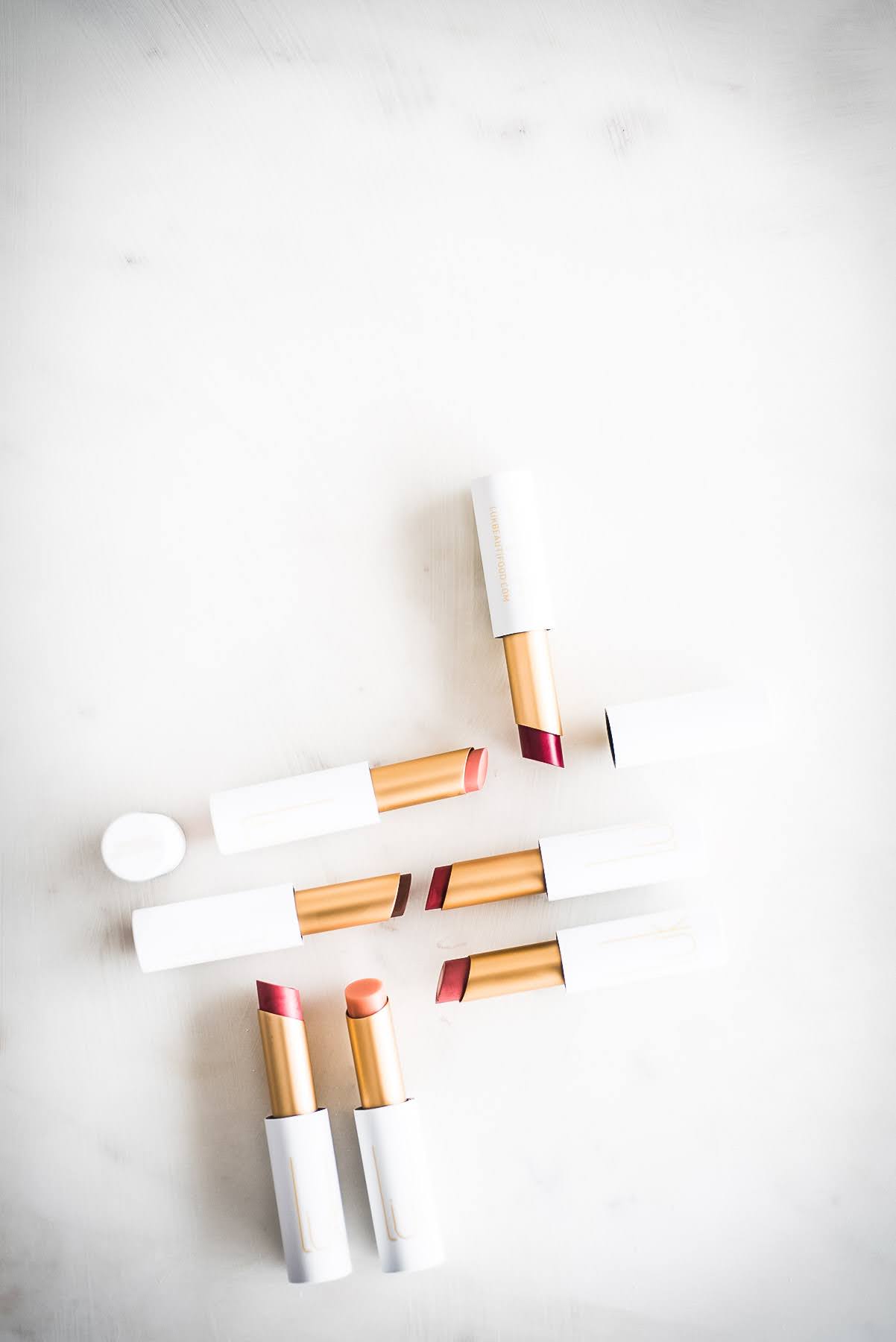 This Vegan Floral Shimmer Balm recipe targets high points of the face.
It adds subtle shimmer and intense hydration. When dabbed onto the browbones, cheekbones, or cupids bow, it catches and reflects light to appear plump, firm, and dewy. It's packed with plant-based ingredients, beneficial oils, and humectants to contribute to luminous, ultra hydrated-looking skin.
Evening Primrose Oil is our star ingredient as it is extremely soothing to the skin. As an emollient, it has the capacity to soothe parched, dry, or flaky skin: perfect for high points of the face which may have seen increased damage through this blustery winter.
Glycerin is our humectant, meaning it attracts and binds to moisture. Depending on the amount of glossiness desired, you may lower the glycerin content in this recipe. Use up to 1 teaspoon for maximum shine, but feel free to lessen the amount or omit it entirely for a more subdued look. Simply substitute the missing quantity with more Evening Primrose Oil.
We also use regular Coconut Oil for its creamy consistency and its lovely tropical scent. However, those with acne-prone skin may desire to swap it out for a lighter oil such as Jojoba Oil.
Candelilla is a brittle plant-based wax. Because we wanted this formula to be inclusive to vegan preferences, we've chosen it as our hardener. It adds a beautiful shine to the end product. Feel free to sub in natural beeswax in its place, but be sure to double the quantity and be aware this will affect the texture of the final product.
See our guide to waxes, carrier oils and powders for more information.
The mineral micas in this recipe is really where our creativity really gets to shine: we've used a dash of gold and light nude mica. This is a beautifully simple and warming translucent shade that suits most. Depending on the desired effect and complexion, play around! Start by adding slowly, because with mica, a little goes a long way. Those with warm skin tones may lean towards rich, natural colours such as browns, golds, and pinks, and cooler skin tones may prefer silvers. Those with neutral skin tones may appreciate earthy nude tones and off-whites.
Of course, we can leave out the micas altogether for a totally natural hydrating balm!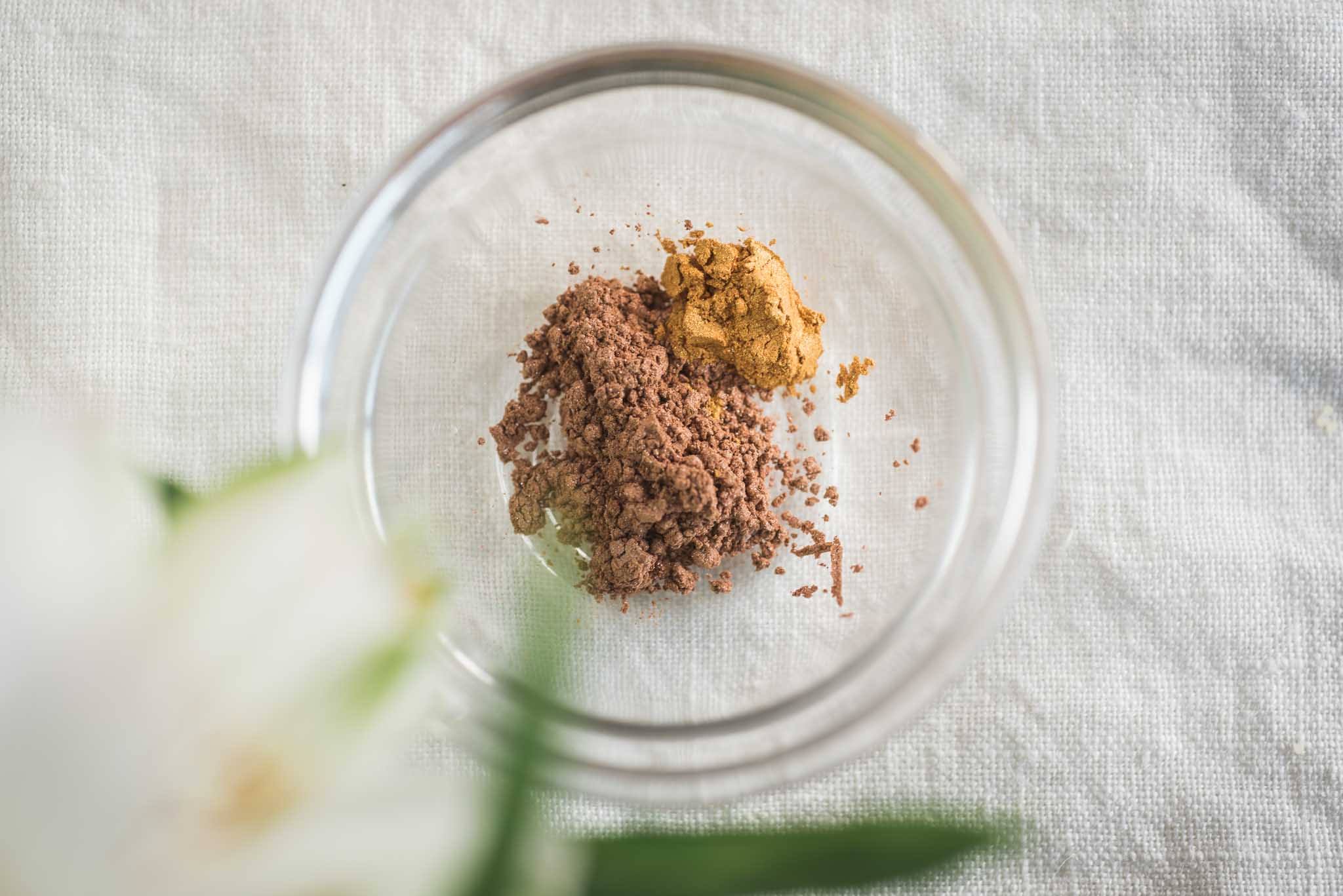 It comes together in a flash.
Simply melt the oils together, add micas, mix thoroughly, and allow to thicken somewhat. Before the balm fully sets, stir in Vitamin E and any skin-safe essential oils you desire. We love lavender and palmarosa because it is floral and decadent. If you prefer not to apply essential oils to the face, simply leave it out. Pop your product in the fridge to set up, and your balm is ready to go!
March is all about letting your strengths shine.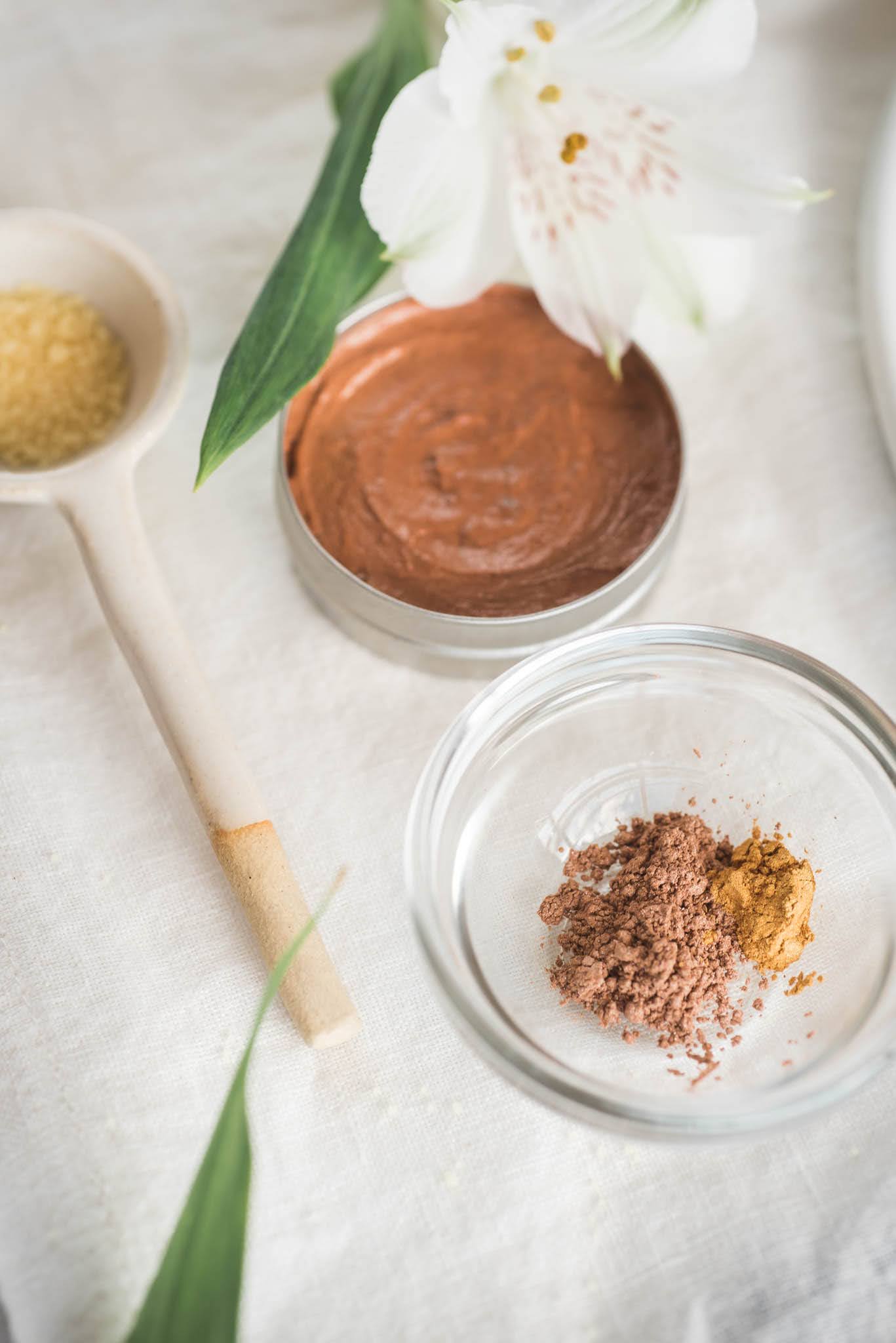 To apply, use very clean fingers or a clean brush. Dab a very small amount to the cheekbones, brow bones, cupid's bow, or anywhere else you want to catch some light.
As we transition from winter into spring, we're encouraging you to embrace the shimmer. Enhance the appearance of dewy, ultra-hydrated skin, and release your inner glow!
Learn how to make it:
See our recipe for Vegan Floral Shimmer Balm here: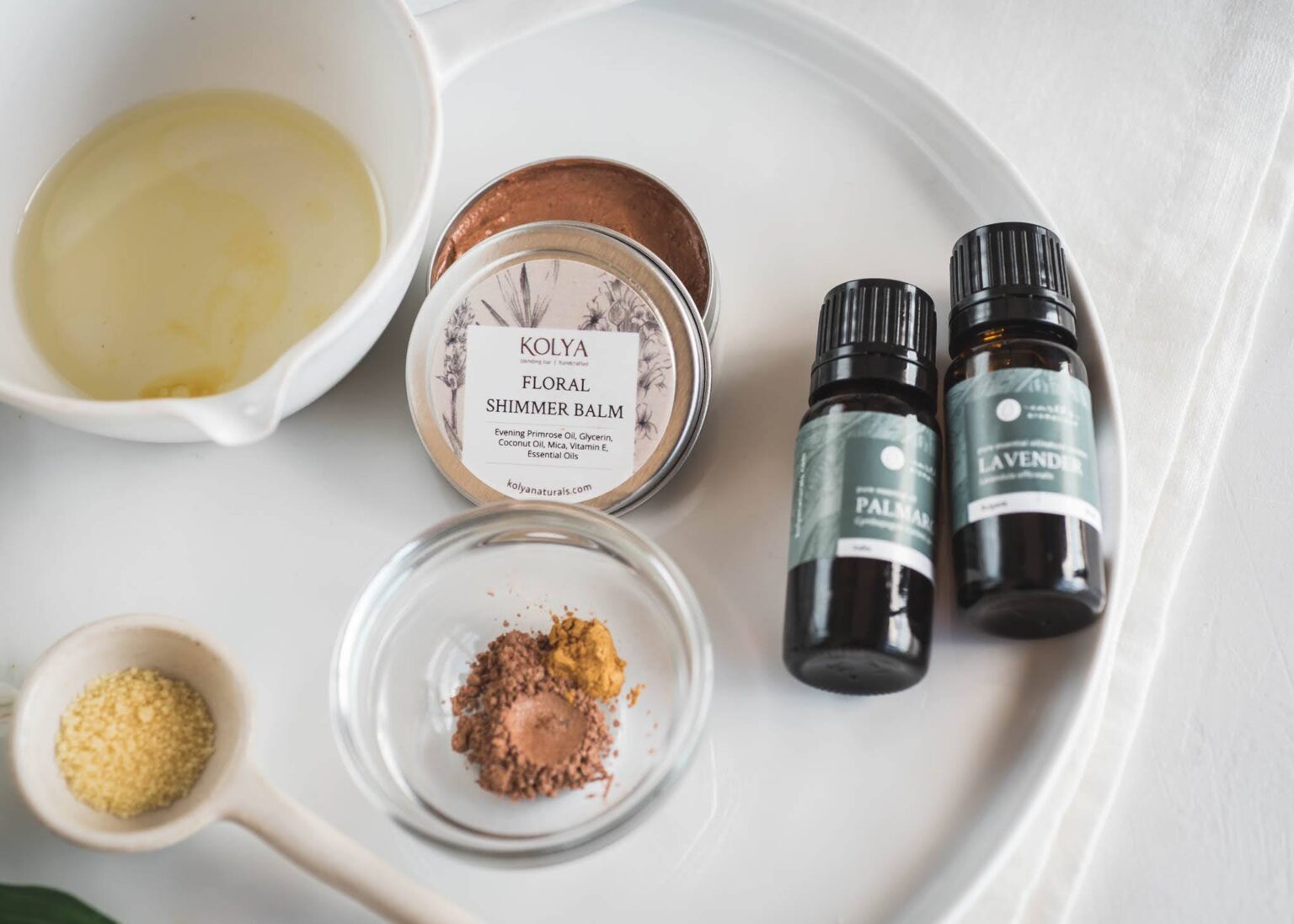 Vegan Floral Shimmer Balm
| | |
| --- | --- |
| | Vegan Floral Shimmer Balm |
Ingredients
Instructions
Directions:
Melt evening primrose oil, glycerin, coconut oil, and candelilla wax in a small heat-safe bowl and set in a pot of gently simmering water.

Once items are melted, remove from heat and stir in up to 3 tsp mica. (per 1 oz. of final product). Add vitamin E & essential oils of choice.

Allow to set before use.
To Use:
With clean fingers or brush, dab a small amount of Vegan Floral Shimmer Balm to cheekbones, brow bones, or anywhere else you desire hydration and subtle highlight.
Recipe Notes
Note: If preferred, you may use beeswax in place of candelilla wax, but double the amount of beeswax. This will affect the texture of the final product.