We don't need to spend a lot of money for an evening of self-care. We don't even need to look further than our own pantries. With a little DIY-know-how and some budget-friendly creativity, we can create luxurious natural skincare without leaving the home.
These aren't "recipes," but a helpful framework for completely customizable and natural home spa treatments. If you don't have one item called for, fret not! It's easily swapped for something else. Light some candles, play some music, and let the creativity flow during your very own natural spa date with yourself!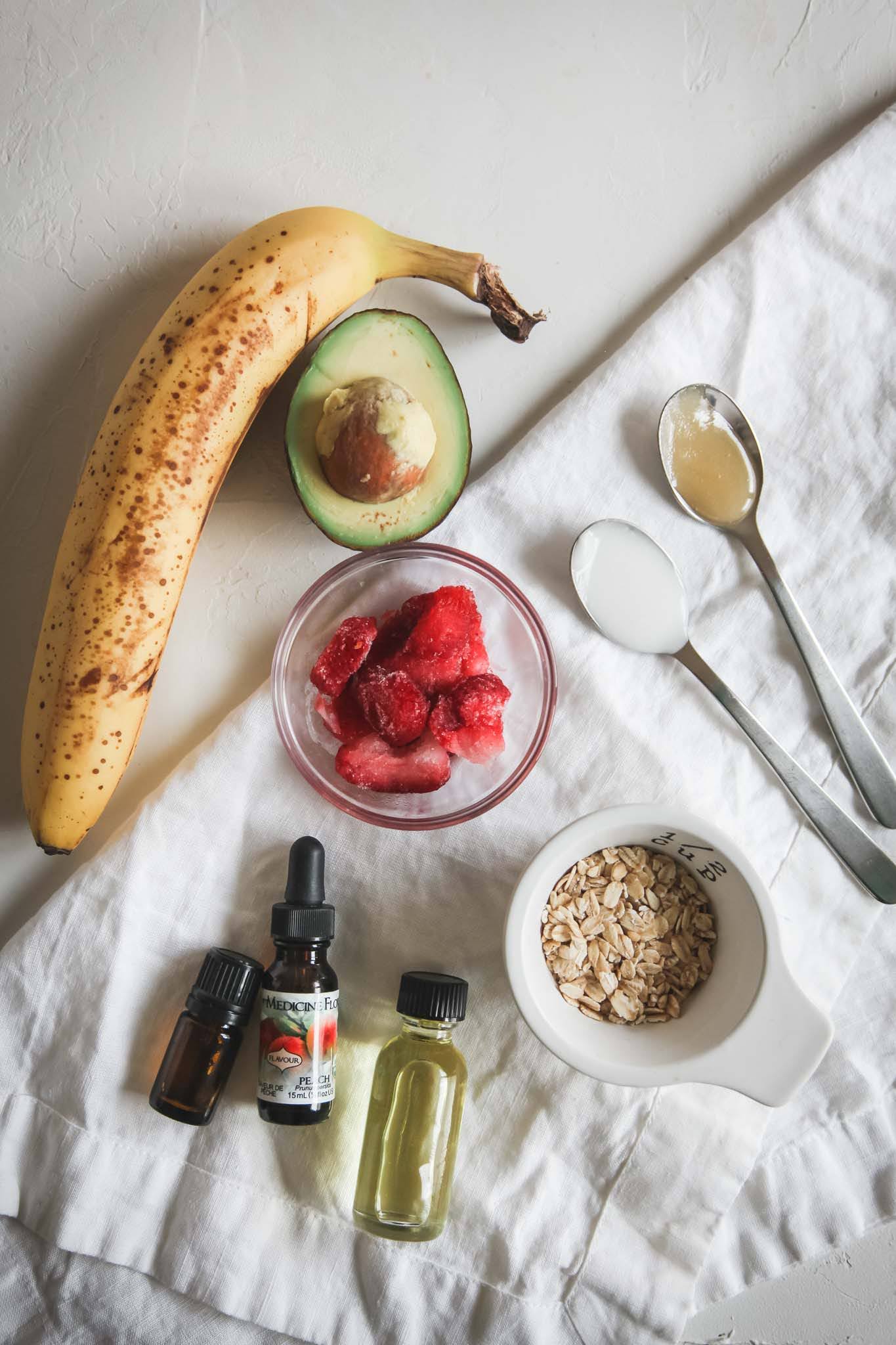 Face Mask
There's nothing better than relaxing around the house or in the bath with a soothing face mask. It's a remarkably easy way to show some love to the delicate skin of the face, and even easier to customize at home.
To cleanse and draw out impurities, french green clay or kaolin clay is a fantastic ingredient. It needs to be mixed with a liquid: we can blend clay with aloe, cooled tea, or skin-friendly oils. Even just water will do. We only need about a tablespoon of clay and liquid each for a generous single-person application.
If we don't have clay, we can mash up fresh fruit such as bananas, strawberries, or avocado! Fresh fruit is extremely hydrating and will gently exfoliate the skin. Blending with honey, oats, yogurt, oil, cooled herbal tea, or any combination thereof will further its hydrating and brightening potential. Play around and see what works best for your unique skin type.
Amy used ground oats and honey for her at-home mask, added a little bit of water, a pinch of cinnamon, and included a few drops of Blue Azul Soothing Cleansing Oil for its redness-reducing properties.
Samantha likes to add Medicine Flowers' Vanilla Flavouring Oil… not because she intends to eat it, but because it smells amazing, and works well for sensitive skin types that cannot use essential oils topically. Always patch-test a new ingredient before applying to the face.
Gather your chosen ingredients into roughly two tablespoons in total. Mix well, and test the mask on a small portion of skin to be sure of any potential sensitivity.
A face mask needs to be thin enough to be spreadable, but thick enough to stay on the face once applied. If your mask is too thin, add a little more of a dry ingredient such as clay, milk powder, or ground oats. It takes a bit of practice, but after you've made a mask or two, you'll be hooked.
Apply a layer of the mask to your face, allow to sit for 15-30 minutes, and wash off when you're ready. If needed, spritz some water or hydrosol on your face to prevent it from drying out too much. We love Earth's Aromatique Hydrosols!
For an all-natural mask minus the mess, try Black Algae or Red Algae Masks from Osea!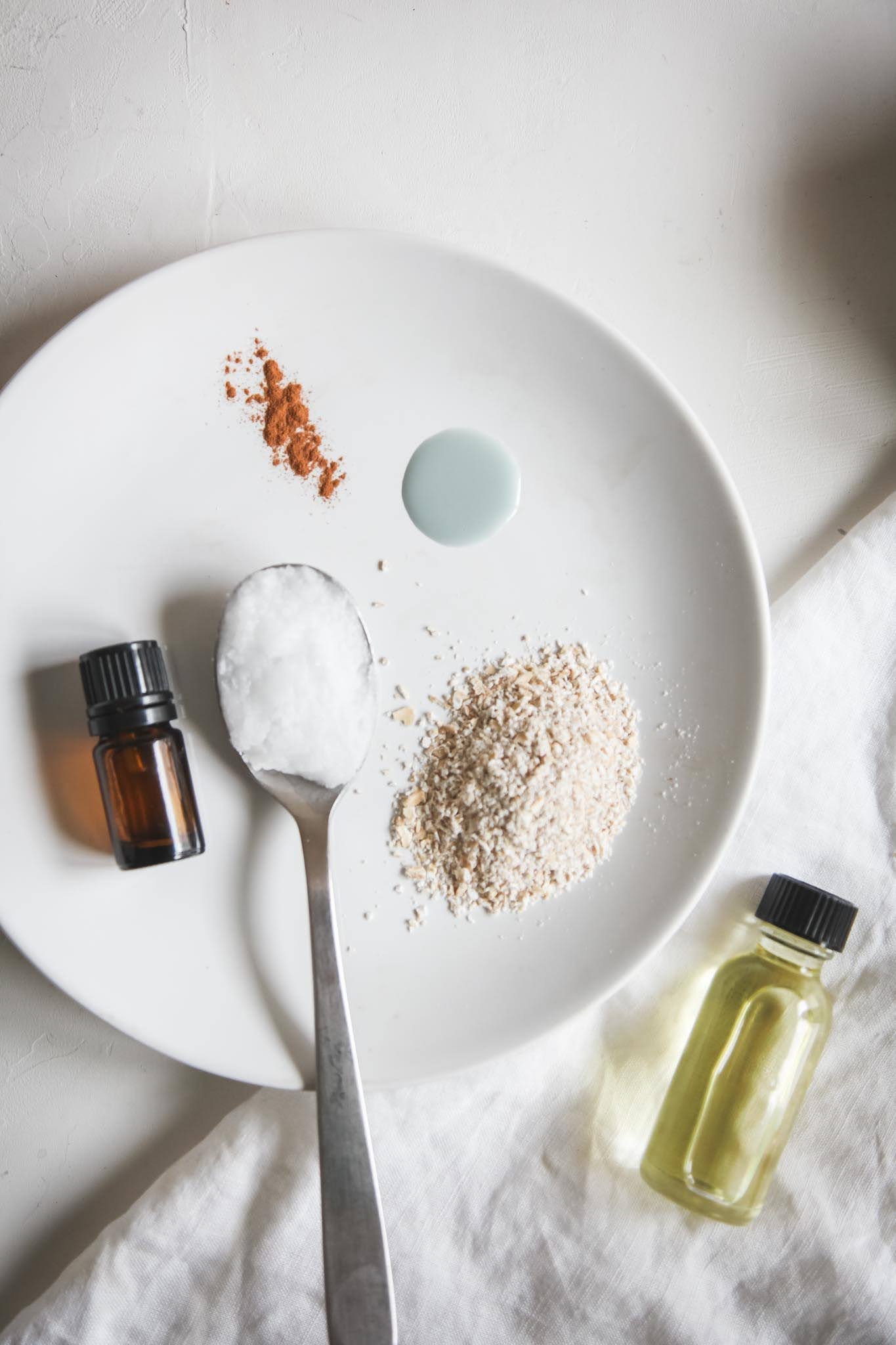 Body Scrub
Body scrubs are a fantastic way to keep skin looking radiant without too much irritation or synthetic ingredients. They're extremely easy to put together. All we need is a mild, skin-safe exfoliant, and something to help hydrate. One cup of total ingredients is enough for one person. That's it!
As a skin-safe exfoliant, we can use fine sugar. We also like to use ground oats, dried herbs (such as chamomile or green tea), clay, or even cocoa powder – all are gentle enough to be used on the body. Use one or any combination you like for a varied texture.
The hydrating portion of the scrub is even easier. We love jojoba oil, but realistically, you can use whatever you have lying around: olive oil is fantastic for the skin, as is grapeseed or coconut oil. If you're feeling wild, use liquid honey!
Bonus additions include 5-10 drops of skin-safe essential oils or herbs. The combination of bergamot and palmarosa essential oil, plus one teaspoon of lavender flowers, smells just like a London Fog latte!
Combine all ingredients in a bowl and mix well. To use, after a few minutes in a hot shower or bath, massage the scrub over your body. Feel the stress of the day wash down the drain.
After towelling off, follow up with a favourite body moisturizer and enjoy your decadently smooth skin. We are loving the lightweight, ultra-concentrated Undaria Algae Body Oil from Osea.
Don't feel like DIY? Try Om Organics' Pink Coconut or Vanilla Moon Body Scrub!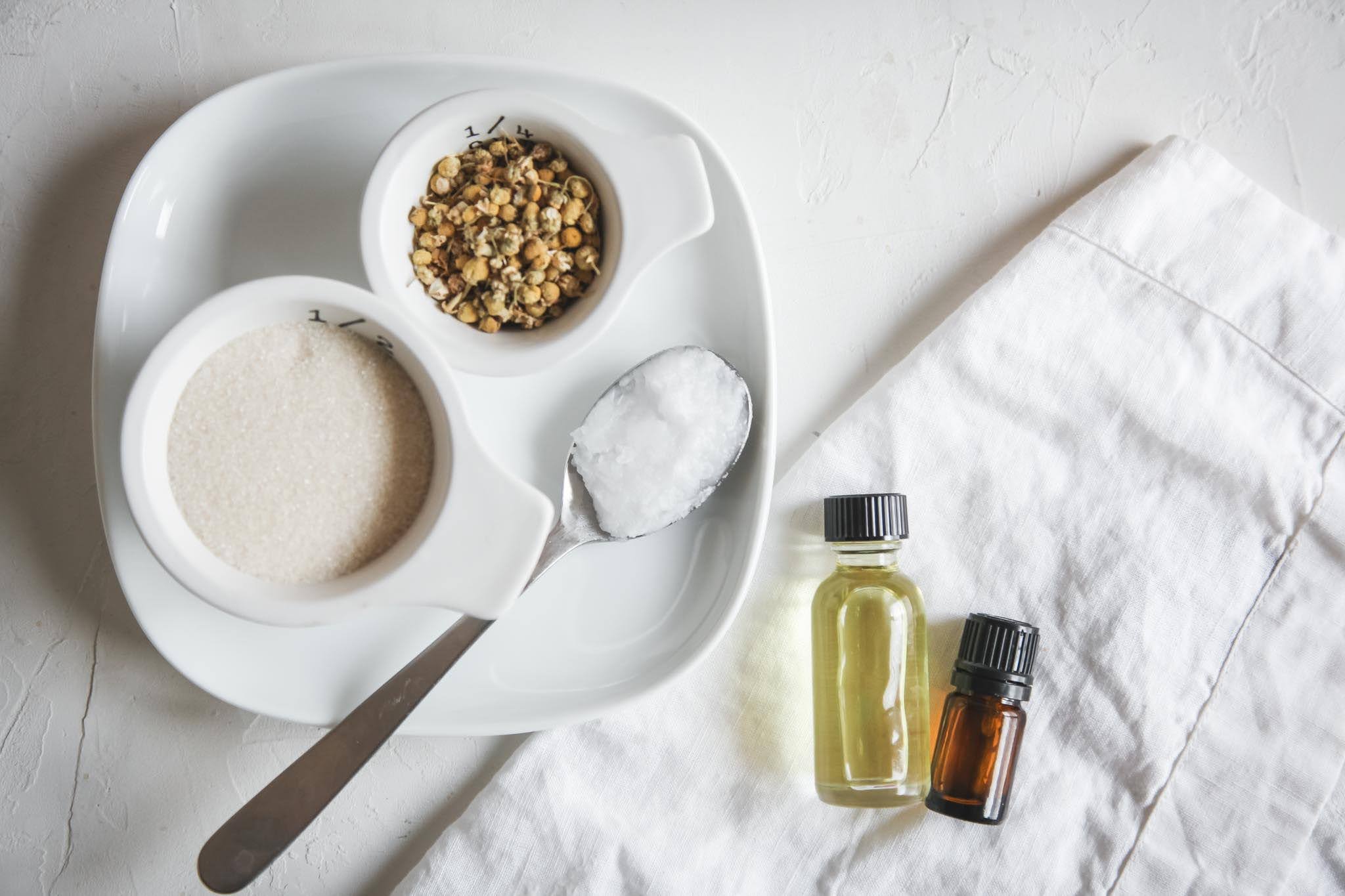 Facial Steam
Have you ever brewed an exquisite cup of tea and breathed in the aromas? Consider steaming a cup of tea for your face: choose ingredients you want to bask in.
No matter how much you moisturize, nothing feels more hydrating and relaxing than a good steam. It's an instant moisture-boost and melts away tension. It can ease tired eyes, tight shoulders, and even relieve a headache.
A big crowd-pleaser is Eucalyptus essential oil and fresh citrus peel – or whatever we have on hand. Sometimes it's lemon essential oil, other times it's orange, lemongrass, or grapefruit.
A pinch of black or green tea is highly invigorating, and its aromas pair wonderfully with fresh basil, or florals such as organic rose petals, chamomile, cinnamon, or calendula.
A sprinkle of Earth's Aromatique Artisan Loose Leaf Tea takes away the guesswork.
To get started, fill a large bowl or sink with hot water. Scatter in approximately one tablespoon of your chosen ingredients. Drape a clean towel over your head, and hover over the bowl to capture the rising steam. Be sure to use caution around hot water and avoid burns.
Breathe deeply, close your eyes, and relax!
Follow up with Canadian-made Sage + Frankincense Hydrating Whip from Communion Botanicals.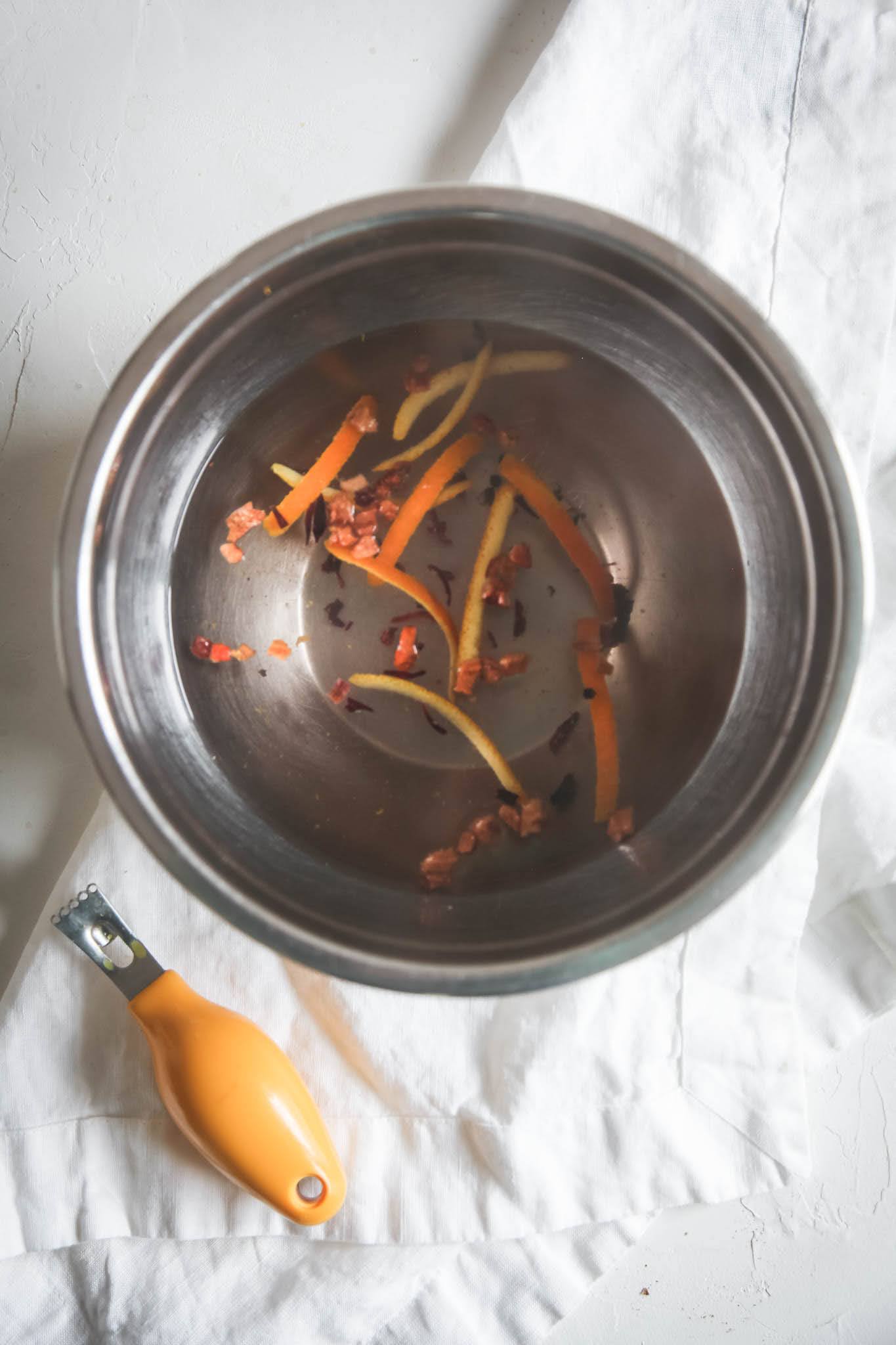 Sensitivities and Cautions
If you're unsure if an item is safe for your skin, always patch test before use. Do your research and avoid irritating or allergenic ingredients.
If using fresh ingredients or anything containing water in your creation, spoilage is the enemy. To avoid fussing with a preservative, make your home spa products only when you plan to use them immediately, or store in the refrigerator for up to three days.
Citrus is a fantastic natural ingredient because it smells amazing and may aid in brightening the complexion. However, it causes sensitivity to the sun and other hazards, so avoid applying directly to our skin.
Instead, use citrus only in steams, or very sparingly in wash-off products. Always follow up with sunscreen. We may also use a teensy pinch (1/16th of a teaspoon) of ascorbic acid in place of real lemon to get our topical dose of vitamin C.
See also: How To Be In The Sun Naturally: Demystifying SPF
A little at-home pampering is as easy as opening up your pantry. Incorporate creativity into your self-care routine, and learn about natural DIY botanical wellness from the comfort of your home.
What's in your pantry? Have questions about an ingredient, or not sure what to make next? Let us know what you're whipping up! Comment below.