Introducing our new breast friend, the Breast Massage Oil from Living Libations.
Nadine Artemis, founder of Living Libations, brings loving awareness to our bodies through thoughtfully-curated products: ambrosial fusions of scent, intention, and effective formulation.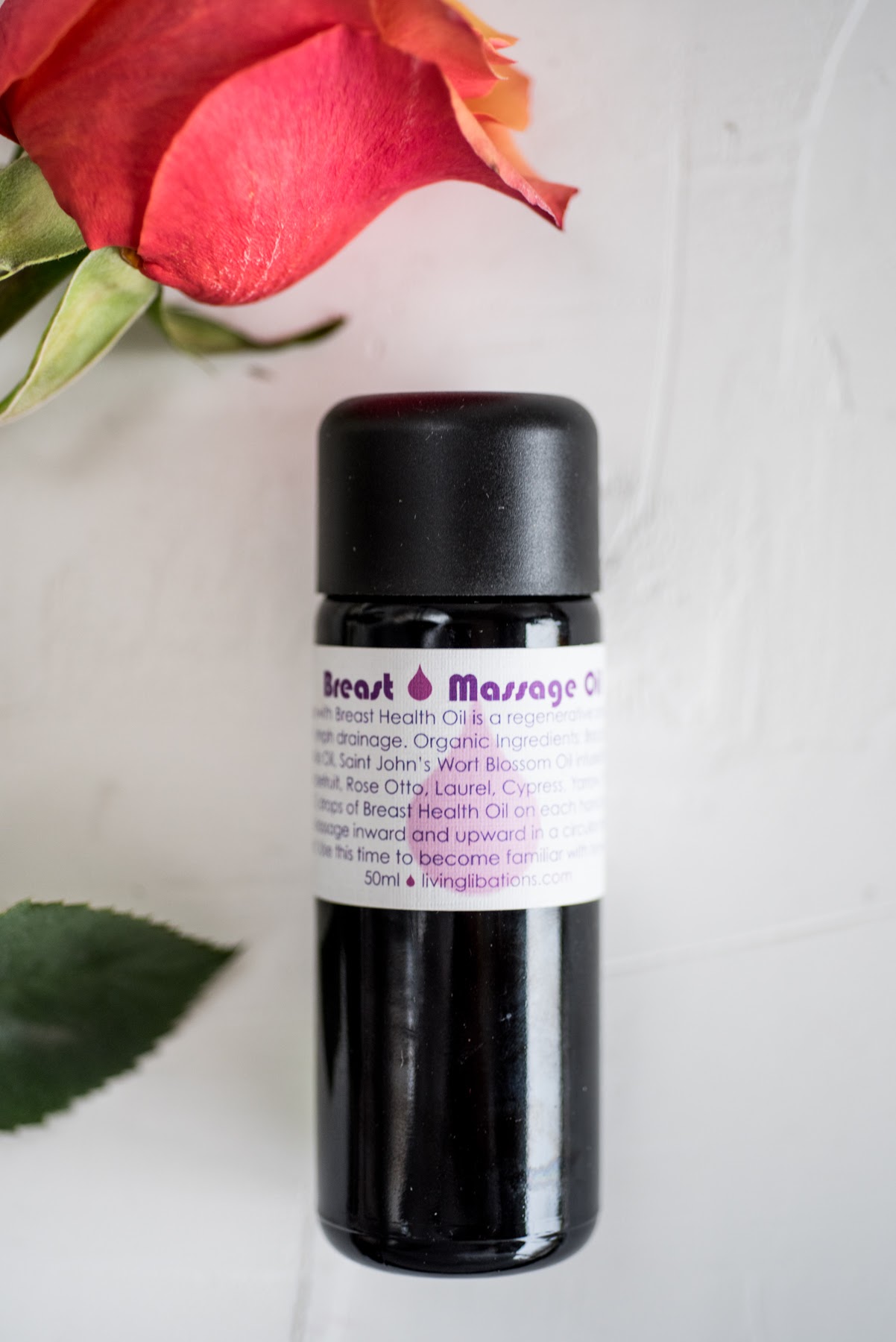 Our breasts are complex, and environmental, physiological, hormonal, emotional fluctuations may affect the sensitive tissues. Living Libations' Breast Massage Oil is a therapeutic blend of essential oils intended to love and support delicate chest tissue.
An excellent self-care ritual is breast massage, as it stimulates natural lymphatic function and may aid in bringing awareness to fluctuations in our health. This massage oil blend includes broccoli seed, calendula, and St. John's wort, supported by the invigorating scents of frankincense, rose otto, cypress, chamomile, ylang ylang, and more.
The scent is not overbearing or cloying, but distinctly feminine and serene. It absorbs quickly and beautifully into the skin and does not leave an unpleasant stickiness or greasy feel. This blend makes an elegant and unpretentious addition to anyone's self-care routine.
With Breast Massage Oil in mind, here's a simple self-care routine to follow. This may be performed at any point in your hormonal cycle, depending on your personal level of comfort.
While in the shower or bath, take time to familiarize yourself with your breasts. Our breast tissue extends from the breastbone in the center of the chest, across to the underarm area, and from the collarbone down to the sixth or seventh rib. Explore the texture, shape, sensations, and take note of sensitivities in this area. Breast tissue may be dense or soft and variations throughout the course of your hormonal cycles are to be expected. Your best tool for breast health is awareness, so take the time to establish what is normal for you.
After bathing, apply 1-2 drops of Breast Massage Oil to your palms. Apply to the neck and pull the oil in a downward motion towards the heart. Apply to the underarm and pull towards the breast, massaging the tissue in gentle inward, upward, and circular motions.
Take a moment of gratitude as our breasts are beautiful and unique. They are symbols of life, love, and fertility. Regardless of age, gender, personal health, or individual choices, mindfulness is crucial in the journey towards body positivity and good health.
Read about Embracing Our Divine Femininity with Living Libations.
Learn more about our new breast friend, the Breast Massage Oil and shop online!
Adapted from 3 Practices to Nurture Your Breasts – Botanically.