Theatre folk are a superstitious lot.
Though I was brought up with a (somewhat) pragmatic view of the world, I've always been something of a romantic. On a Thursday morning, overcast and drizzly, I open my email to begin my day. We are several weeks into COVID-19 quarantine, and while I am fortunate to continue my work from home, I miss the bustle and community feel of the Kolya offices. I'm feeling the gloom, this day. This is when I open an email from Gordon. Gordon, the botanical wizard behind the Wild Raspberry Body Scrub and Cellu-Lymph Body Oil, typically mans the desk to the Kolya spa.
"Hi Samantha, I trust you are keeping well."
I sneeze. My cat pukes up her breakfast in the distance.
"My partner and I have a subscription with the Edmonton Citadel Theater. I've just received a lovely image of their ghost light."
A ghost light, I learn, is a bare electric bulb that is left on the stage of a theater once everyone has gone home. Without this light the theater would be in complete darkness. Though simple in form, its function is both practical and supernatural: some claim the light is for the friendly spirits of actors to continue their art through the night. No one is entirely certain of the origins of "ghost lights," but as a 20-minute-Google expert, I attest they've been used in theaters for centuries.
"…I've included a photo of the selenite lamp in the waiting area of Kolya…"
Selenite! I take a second, more emphatic slurp of morning tea. This is interesting. Selenite is a variety of mineral that takes its name from the ancient Greek goddess of the moon, Selene. It is also connected to sélas, meaning "light." If we look back to the Orphic Hymns, poetry composed in the late Hellenistic/early Roman era, we may observe Selene, the "…Goddess Queen, diffusing silver light … wand'ring thro' the gloom of Night … Lover of vigilance, foe of strife, in peace rejoining, and a prudent life." (1) Selene, Greek goddess of the moon, wanders through darkness (or times of strife) with a presence of peace, vigilance, and earnest hope for the future.
Well, hey, for 4.5 years and a mountain of student loan debt, at least my arts degree is good for something. As a mineral crystal, I interpret Selenite, not unlike our Greek goddess-friend Selene, to represent hope in crummy times. This may potentially write me off as a wacko, but stick with me. Think of the metaphorical implications: here we have a beacon of light, a literal representation of illumination, and beyond that, an illuminated sense-of-self. From this, we may glean themes of purity, honesty, positivity, and awareness. Selenite, then, may come to represent vigilance, wisdom, compassion, and, err, whatever the opposite of "foe of strife" is.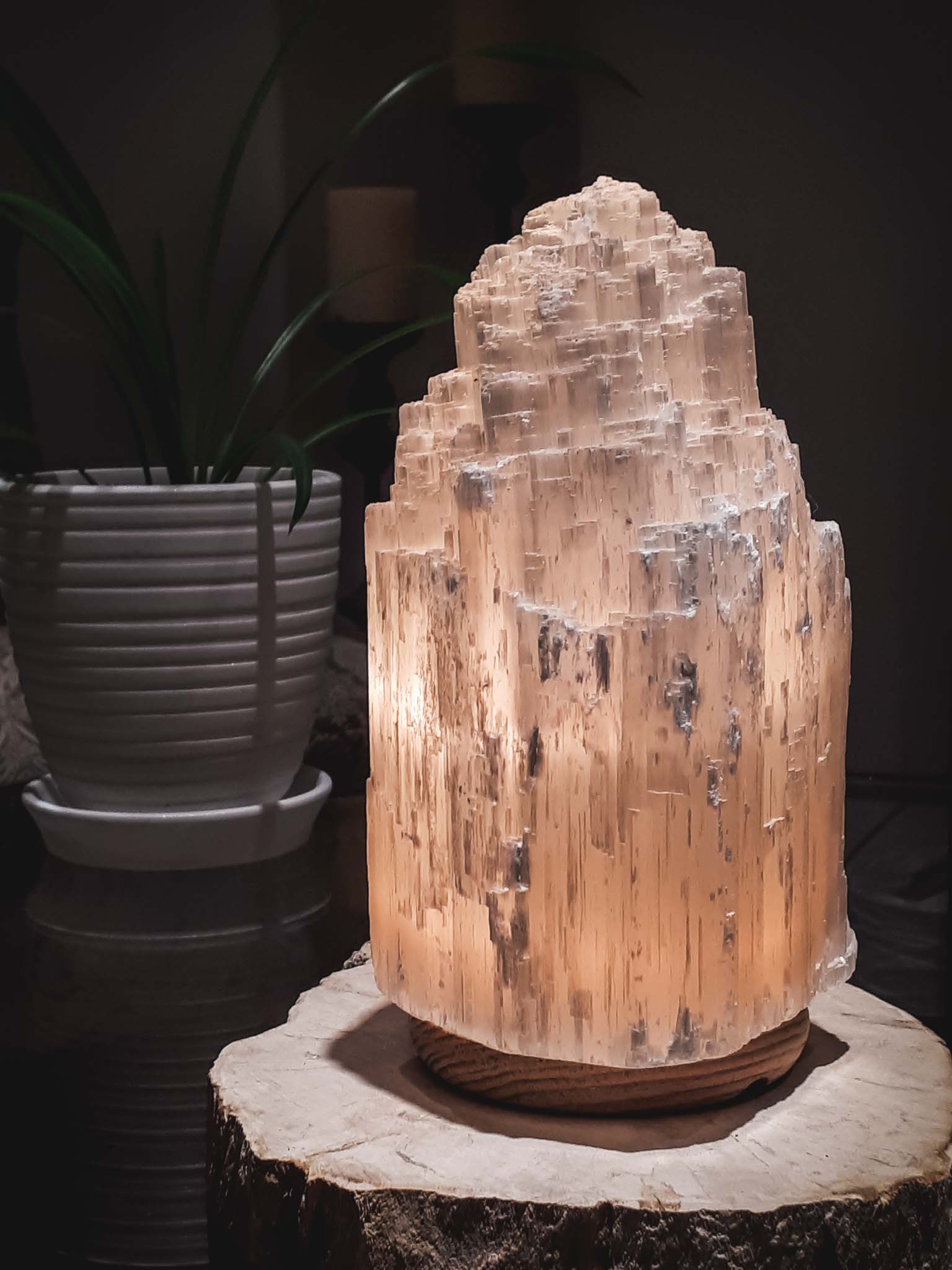 "…I thought it might be a lovely [if you] wrote a message telling our clients that we, too, are 'keeping a light on' while Kolya is closed."
Capital idea, Gordon. The concept of a ghost light is something that, if not a just little bit magic, is most authentically charming. It is a small expression of sentiment despite the present chaos rampant in our world.
So, here it is, folks: we miss you. Though our little spa is closed and our sanctuary is dark, we're keeping a selenite-light on. Our hearts go out to every one of you. With prudence, we will emerge from this crisis with more earnest compassion for our fellow humankind than ever before. We will be back, and when that happens, Kolya welcomes you with open arms.
Reference: