Our DIY Facial Cleansing Oil is a deeply hydrating face cleanser that rejuvenates the skin with each use.
This DIY Facial Cleansing Oil is used for cleansing, hydrating and balancing oily skin. It can be used as a deep cleansing treatment for normal, oily, combination or dry skin types. It's also excellent for young skin that is transitioning through hormonal changes.
Learn about Oil Cleansing for Glowing Skin.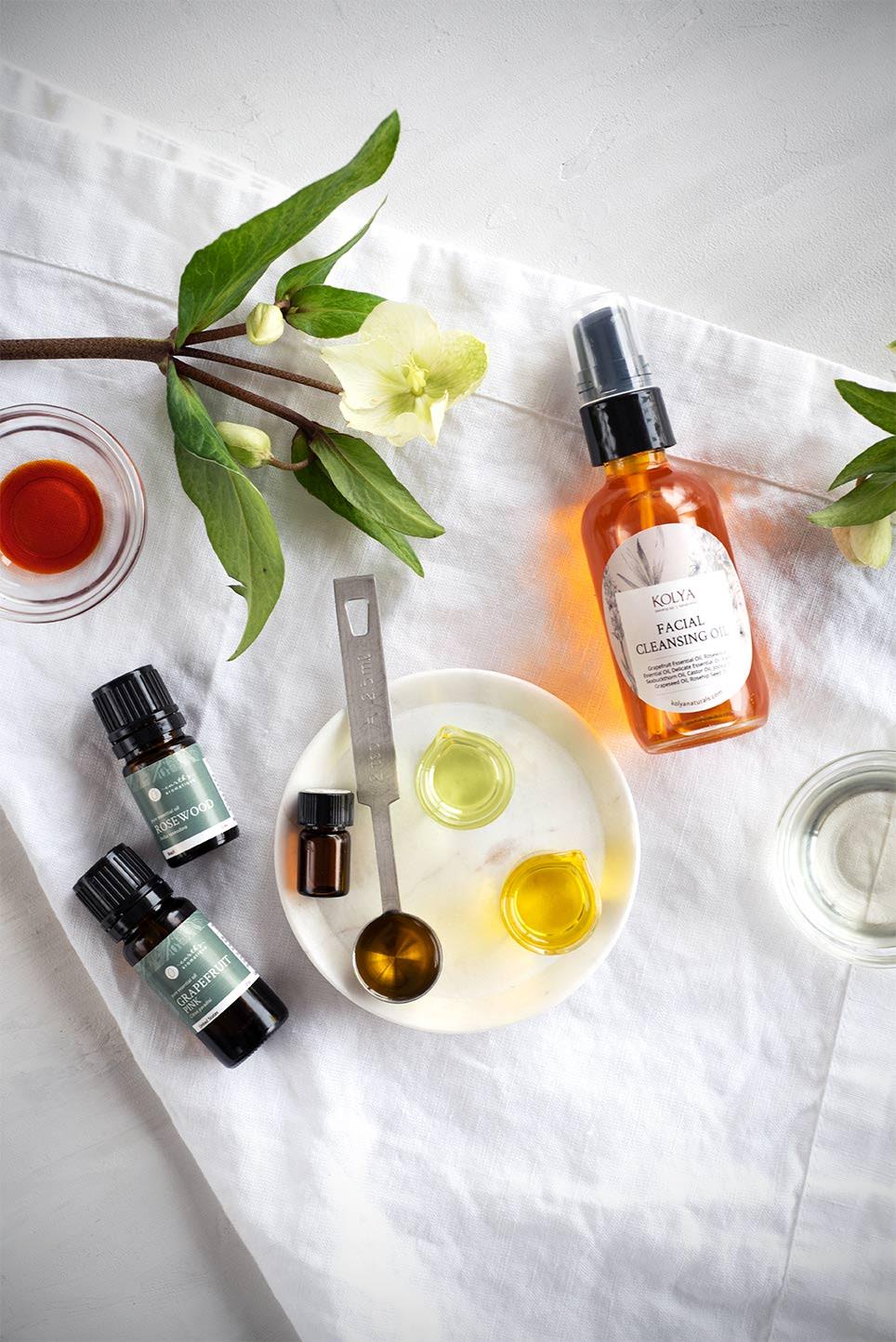 DIY Facial Cleansing Oil
| | |
| --- | --- |
| 60 mL glass bottle with treatment pump | |
DIY Facial Cleansing Oil

| | |
| --- | --- |
| 60 mL glass bottle with treatment pump | |
Instructions
To Make:
Place a funnel into the bottle and add all of the essential oils.

Add each carrier oil into the bottle, using a spatula to pull the oils out of the measuring spoons.

Remove the funnel from the bottle and secure the treatment pump.

Gently shake until well blended. Label and enjoy!
To Use:
Apply a warm, damp washcloth to the face for about 20 seconds or longer to open the pores and remove any buildup.

Pump about a dime size amount of cleansing oil and rub hands together.

Lightly press hands onto the face until the face is covered, then continue to gently massage your finger pads in small circular motion over the face.

Refresh the damp cloth to desired temperature and lightly remove excess oil. Finish with a serum or daily moisturizer.
Recipe Notes
This DIY Facial Cleansing Oil is a beautiful oil cleanser for all skin types, but is especially great for hormonal, combination or oily skin.
This is a wash-off product intended for evening use before bed. Avoid sun exposure for at least 12 hours when using grapefruit or other photo-sensitizing essential oils, and always wear sun protection.