Everyone knows the best part of a crisp is the sugary topping that people can't seem to stop picking at. Over the years, a gluten-free crumble topping (that doesn't have the texture of dust) has been hard to find. When we stumbled upon this recipe, we knew we had found a winner! This topping not only tastes like a "normal" crisp, but many have said it's actually better than the white-sugar refined-flour crisp they're used to. After many trials and errors, we believe this berry crisp to be one of our biggest crowd pleasers, and better yet- it's healthy enough to eat for breakfast.
P.s- we think it tastes EQUALLY as good cold!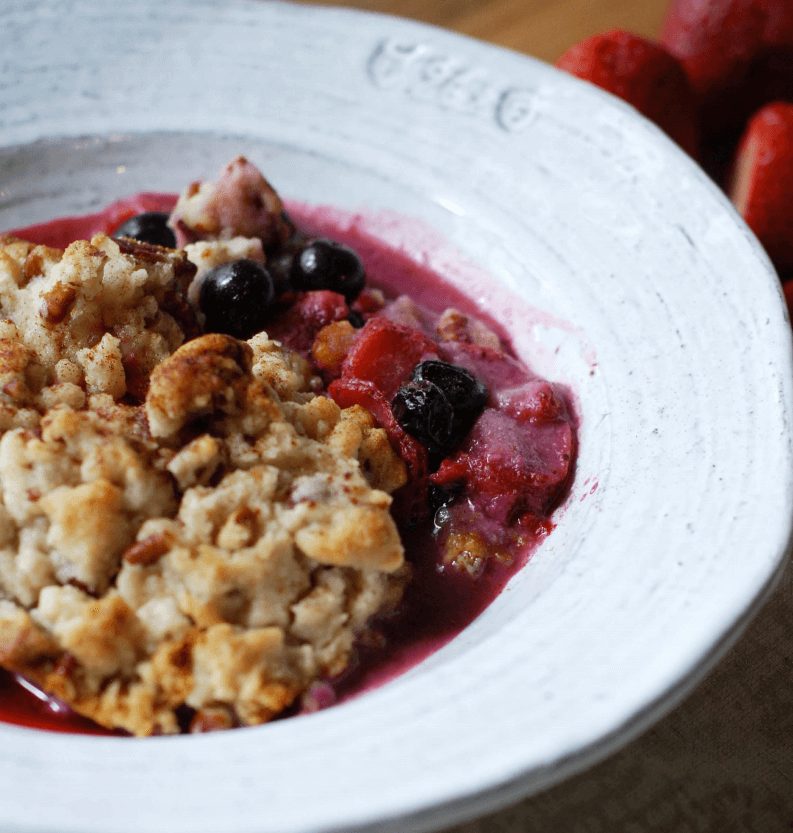 Instructions
Preheat oven to 350F. Lightly grease a pan with coconut oil, and spread the berries out in the pan.

Sprinkle the coconut sugar and some cinnamon on top of the fruit, and let sit while making the crisp.

Mix pecans, flours, cinnamon, and salt together in a mixing bowl. With your hands, knead in the coconut oil and honey.

Crumble the topping evenly over the top of the fruit filling, and bake for 30 minutes (or until the topping is golden, and the filling is slightly bubbling).

Remove from the oven, allow to slightly cool, and enjoy!
Recipe Notes
Feel free to switch around the fruits. We've tried raspberries, strawberries, apples, blackberries, blueberries and rhubarb- they all work equally as well!